Muse Patisserie Pop Up Store
Follow on Instagram:
 Muse❤Patisserie
@muse_patisserie #ShymeCookies #BondOverFood #MusePatisserie
Hotel Indigo x Manna Group International Limited
Proudly Presents Muse Patisserie
A Perfect Place for Weekend Family Bonding
Hotel Indigo Hong Kong Island (hotel under Tai Hung Fai Enterprise Co. Limited) and Manna Group International Limited have come together to present you Muse Patisserie, available as a pop-up café every Sunday from 2:30pm to 5:30pm, starting from 11 November 2018. The creation of the tea set is to entertain families from all walks of life at a very reasonable price and to provide a perfect place for weekend family bonding.
Helen Ma, renowned fashion creative queen and socialite, is not just the co-founder of online magazine Helen Ma Loves Muse but also one of the co-partners of Manna Catering Limited. Despite having a very hectic working schedule, Helen always spares time for quality moments with family. Helen's daughter, Shyme, has always been an inspiration to her; in fact, she is the reason why Muse Patisserie is born.
Muse Patisserie offers a fun and scrumptious dining experience to anyone who visits. Weekdays in Hong Kong are hectic for everyone, and it is hard squeezing time to properly enjoy food; of course, it is also difficult to find essential mother-and-child space. That is why Hotel Indigo Hong Kong Island, a hotel with Wan Chai neighbourhood as its design concept, has sponsored its Indicolite Restaurant as a venue for the new Muse Patisserie afternoon tea experience, rending a 4-star platform to sit-back and enjoy.
Enjoy quality weekend family time over a delightful afternoon tea set. Featuring a Merry-Go-Round and a Ferris Wheel as its tea set presentation, it is sure to impress children and parents alike. Most importantly, Shyme Cookies, named after Helen's very own daughter, will be a major character at this weekly pop-up café. Shyme Cookies is motherly love in its edible form. It is a pack of cookies with a unique mix of 100% handmade cookies of varying textures and surprises. These cookies made with extraordinary ingredients are adored by people of all ages.
Availability
Starting from 11 November 2018, the tea set is available every Sunday from 2:30pm to 5:30pm.
Price
HK$488 (For 2pax) + 10% Service Fee
For booking or enquiries, please call us at 3926 3880 (Johnny Tang).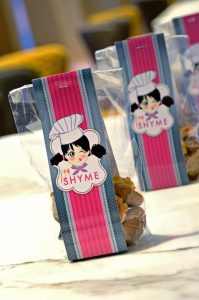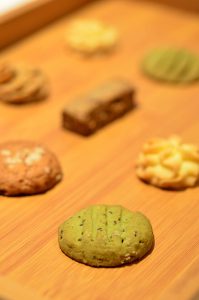 Shyme Cookies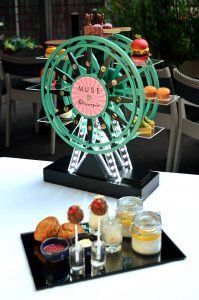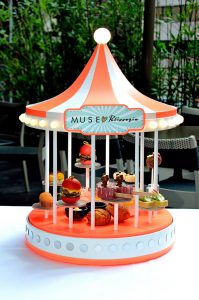 Tea set
(Tea set includes Wagyu Beef Burger in Mini Beetroot Buns, Black Truffle Foie Gras Mousse coated in Mango Jelly with Raspberry Crisp, Parma Ham wrapped Honeydew Melon with Cantaloupe Lava Dome, Seared Sea Scallop with Caviar on Black Toast, Pistachio Custard Tart with Japanese (Wakamomo) Baby Peach, Lychee Jello with Lychee Popping Boba, Chia Seed Coconut Panna Cotta with Mango Coulis and Bird's Nest, Ruby Chocolate Nutella Bar, Mini Chocolate Cake Lollipop with Popping Candy, Okinawa Black Sugar Whole Wheat Scones with Homemade Strawberry-Rose Jam and Clotted Cream)
About Manna Group International Limited
Manna Group International Limited have two arms, Manna Catering Limited and Manna Communications Limited, is a dynamic and fast growing provider of premium catering services and professional through-the-line communication services in Hong Kong and Asia. As your ideal business partner for catering and communications, our experienced and professional teams will join force with you by providing top quality services and innovative solutions from concept development through seamless execution to effectively translate business vision and objectives into marketing successes and continuous business growth.
About Hotel Indigo Hong Kong Island
A shimmering bronze dragon created from solar fins dramatically wraps the exterior of the Hotel Indigo®Hong Kong Island hotel, rooting us in the culture and traditions of our neighbourhood. Floor-to-ceiling windows in our guest rooms offer panoramic views of Wan Chai, while thoughtful details, like small blue statues of our local Kung Fu master, help you explore the fascinating history of this community. Our dramatic, cantilevered glass-bottomed infinity pool and Skybar are also perfect spots to take in the breath-taking views. Our lobby's electric blue staircase's design was inspired by the Blue House Cluster and Wan Chai's vibrant nightlife. Our restaurant serves not only the best coffee in Wan Chai but also the best view of the oldest post office of Hong Kong, a treasure from the past.
For media enquiries, please contact:
Vincent G. Law
Manna Group International Limited
Tel: (852) 2837 8915
vincent@manna-catering.com
Phoebe Tang
Hotel Indigo Hong Kong Island
Tel: (852) 3926 3818
event.hkgin@ihg.com
Phyllis Wong
Oink Oink Communications Limited
Tel: (852) 6291 8601
phyllis@oinkoink.com.hk